Oftentimes, when people think of deer their mind conjures up images of Bambi, the cute little harmless angelic creature jumping in the grass. And don't get me wrong, deer are pretty chill most of the time, but they are not models of kindness or fairness and they are being mean to one another regularly.
Deer are quite capable of aggressive behavior, both towards people and their own kind.
This is a compilation of the 'hoofed devils' being mean to each other. Pushes, bites, sneaky punches - they can do all of that.
Why are deer being jerks sometimes?
When they push, attack or bite each other it often appears to be an expression of dominance. As in, "don't forget who's the boss around here". Deer have a pecking order. Strongest and meanest eat first, youngest and weakest last. Pretty simple, eh? Far from fair from our current point of view but that's what allowed these animals to survive in nature.
For example, our oldest doe, Babushka, along with a few others, often seen browsing for leftovers when most of the herd have moved to a better spot where fresh lot of feed is beig distributed. Is that because she feels she can no longer compete with full of life youngsters? Or does she just like a bit of quiet in her senior age? Whatever the reason, we often trick them and still deliver an additional portion to where the oldie is. She's looking fine.
Luckily, deer usually don't 'hold a grudge' against fellow herd members, they bite or get bitten and move on, getting back to pecking grass, sometimes only a couple meters away from each other. They don't seem to be 'developing traumas' from being attacked, because they tend to come back close to their abusers soon after, which shows they're not too afraid. They'll often try and keep their distance from aggressive bucks after a rude attack, but will continue to sneak past and hope not to be noticed. I mean, there's a pecking order but also there seems to be an understanding that if you respect it too much you're likely going to be hungry most of the time, or at least - you'll never get any yummy stuff. So the limits keep being pushed all the time.
Is the aggression always about access to food or mating?
Nope. That's why the post is called 'being jerks'. Because deer would often be seen kicking someone off of their spot without any intention of taking their place, or coming up to someone just to push them away, gaining nothing material in return. Just maintaining dominance.
Have a look at some pictures of hostile behavior:
Junkie teaches Orange to respect pecking order (and leave all the food for her to eat):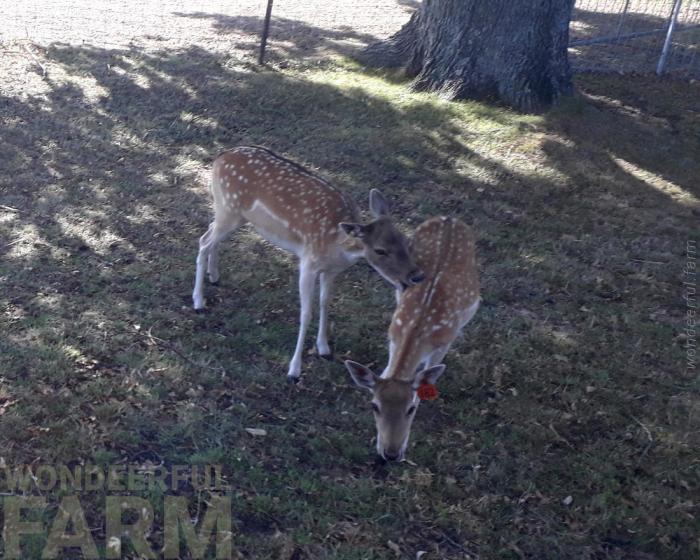 And, from the story about deer biting, Cricket biting Whitey: