Today we've prepared for you some fun, weird and even scary facts about deer species.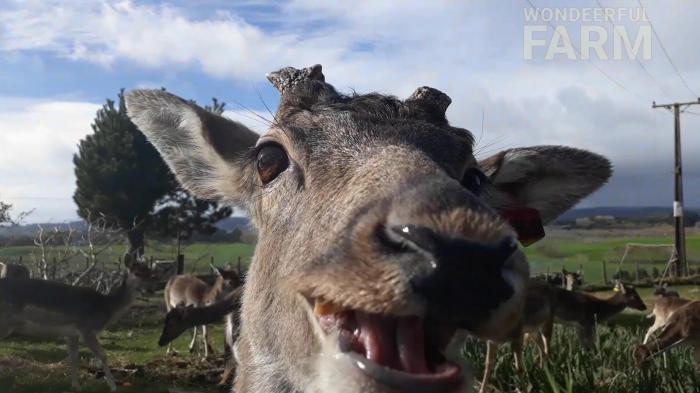 Amazing fawn facts
Did you know little baby deer (fawns) take their first steps within half an hour of their birth? It's true! And within 7 hours they can begin walking around. But they do spend a lot of time sitting down or snoozing. Mothers leave them alone for hours, so if you happen to stumble upon one or a few in the woods don't assume they've been abandoned. Do not pick them up and attempt to 'save' them. You can come back in a few hours and discover that the fawn has been 'picked up' by his mom.
Deer antlers are the fastest growing tissue on Earth!
They can grow at a rate of ¼ inch (0.6 cm) per day! Moose (elk), being the largest species in deer family, grow largest antlers. Female Caribou (Reindeer) are the only female deer which grow antlers.

Each year, antlers fall off and then regrow. Antlers are covered in a furry coat called velvet, which helps them regrow quickly. Deer velvet therefore have been widely used as a health supplement, especially in China, for about 2000 years.
Impressive deer physical abilities facts
Deer can run up to 30 miles (48km) per hour when they are scared. They can also jump up to 10ft (3 m) high.
They can swim at up to 13 miles (20 km) per hour and cross large bodies of water. Deer's coat has hollow hair that provides buoyancy and hind legs are especially strong, all of which helps.
Deer vision facts
Having eyes on the side of their head, deer posess 310 degrees' vision. (Humans have 180).

If you look closely at our deer's eye, it has this wide pupil. Which probably explains the wider angle. Truly remarkable! We have fallow (Dama dama) deer, can't speak for other species.

Night vision - no problem there. One issue is - deer are red-green color blind. They see reds and oranges as shades of green. 50 shades of green, eh?
Creepy deer fact
Chinese water deer do not have antlers,

they're descendants from Dracula

but grow fang-like tusks instead. Observe:

The two images above are not ours and we make no copyright claim on them.

Our deer, the fallow kind, they actually only have bottom front teeth. No top row in the front! In the back they do have both rows, that's how they crunch carrots and chew all they need to chew. We cover this and provide HD pictures in the post called "Inside a deer's mouth".
Scary deer fact
In case you're not spooked enough by the 'Dracula deer', here's another scary fact: Deer Spotted Eating Human Bones. "Deer may pursue flesh because they lack minerals like phosphorous, salt, and calcium, especially in the winter months when plant life is scarce." So in other words, just like humans, when they get really hungry, can go as far as eating spinach, deer can start munching on whatever flesh and bones they can find. Mind you, deer chew a lot of stuff, not necessarily swallowing it, on our farm, you'll sometimes see them chewing on plastic. One of our camera holders has gotten pretty chewed up. So not necessarily do deer even eat human bones as the story concludes.

BTW, Elafiphobia is the fear of deer. :)

How do you ever fear these animals? You must see them as something like this:

Image credit: Oleg Vdovenko

Do deer bite? Yep. Deer can and do bite. Each other, quite regularly, and people, rarely. For example, there are several reports of deer biting in Japan's Nara park. Even other kinds of attacks. They usually happen when animals feel they're being teased and the food is being withheld from them. Don't tease them. Actually, don't approach them unless you know what you're doing.
Amazingly cute deer fact
Deer ancestors facts
Fallow deer (the type we have on Wondeerful Farm) are thought to be the only descendants of Megaloceros, which was a deer that lived over two million years ago during the Ice Age.
Deers' rare canine teeth were used as jewellery
Upper canine teeth in deer are uncommon and even could be considered on the borderline of rare. They are known as ivories, whistlers, buglers, eye teeth, dog teeth or pearl teeth. Deer upper canine teeth are equally likely to be found in both females and males. They erupt in fawns at about one year of age.
Used as decorative beads, pendants and necklaces, deer and elk canines have been found archaeologically from sites dating back to 3000-5000 BP. Here is a photo of jewelry made of such teeth that belonged to the royal couple of Great Britain. Among them is a gold six-petal brooch with green enamel, a birthday present to Queen Victoria from her husband in 1851.
The six deer teeth belonged to deer hunted by Prince Albert. Here are the earrings decorated with deer teeth, also owned by Queen Victoria. A brooch with symbols of Scotland, as well as a hunting hat brooch - all decorated with deer "eye" teeth.
These canines are located inside the upper jaw of some deer. The trophy value of them is not only in beauty, but also in their rarity. According to some sources, chances of deer developing such canines are well below 1%.
A white-tailed deer with upper canine teeth harvested in Boundary County, Idaho. Credit: unknown.
Last modified 2022-09-24 at 16:32