The video has been sped up for your amusement. In reality, this game went on for about 4 minutes.
And what hilarious moments there were: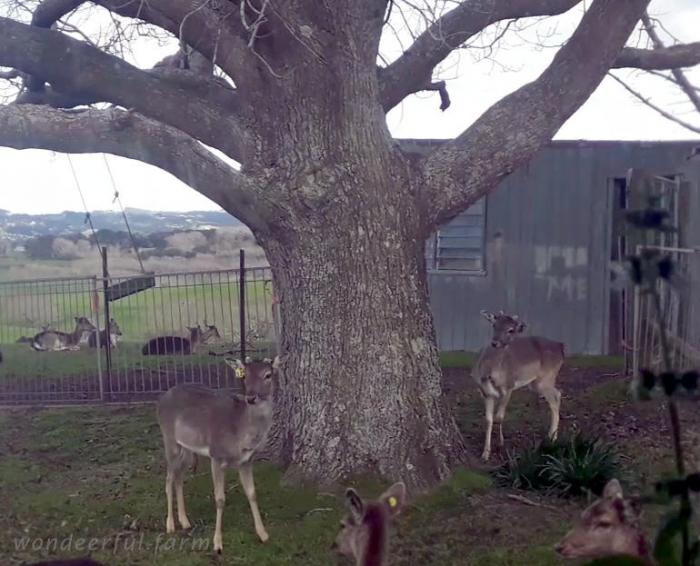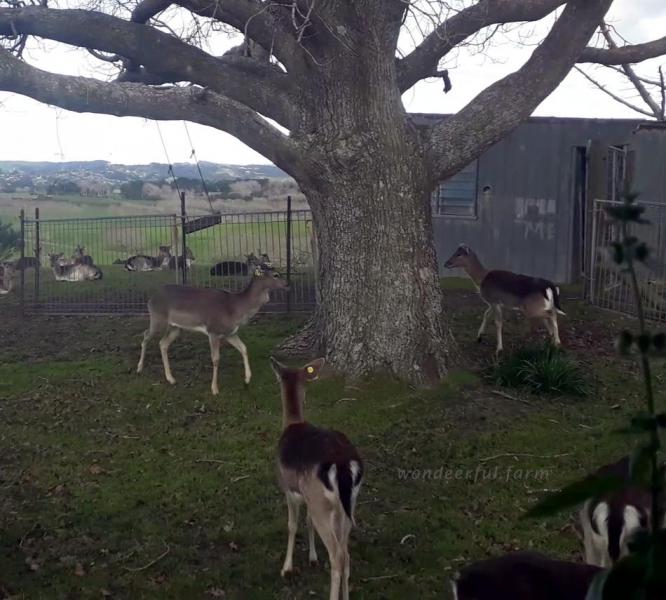 Ok, let us show you a bit of the original video in its natural pace. This is how the game went on:
Still quite frolic, right?
Anyway, same evening the big buck was heard roaring a bit. So this must've been something related to mating rituals. Go figure.
Things seemed to have gotten back to normal again.
Fawns are often seen running aroud like crazy, jumping in the air, in groups, too. One day, hopefully, we'll be able to make a good quality footage of that action. Meanwhile, here's something found on the web.
Fawns do play. Evidence.
(if the above clip doesn't play, please make sure your ad-blocker is turned off)
Finally, here's a picture suggesting deer play football (they don't those balls belong to our doggo)
...But wait, theres more!
Why do deer play?
While some scientists tend to think deer mainly play to improve their physical abilities, others believe it's a way for them to prepare for unexpected situations by practicing losing and regaining control.
To test these hypotheses, in this study titled 'Play for prey: do deer fawns play to develop species-typical antipredator tactics or to prepare for the unexpected?' researchers decided to watch some baby mule and white-tailed deer play.
They found that both species engage in a similar amount of fast travel and turns, which is pretty impressive considering they have different antipredator tactics.
The deer also displayed a lot of nonfunctional manoeuvres during play, which is like when you're playing basketball and you do some fancy dribbling moves that don't actually help you score, but they're still fun to do. This might help them develop cognitive and motor skills during the early juvenile period.
Overall, it seems like the deer are playing to develop similar motor skills, rather than just their species-specific antipredator tactics.
Last modified 2023-03-10 at 14:37