This post is about our fallow deer getting easily spooked. By what? Anything unusual. Shape, noise, anybody's behavior.
They get scared easily, but they also get used to things. For example, you put a new bucket in the paddock and you get lots of panicking deer. But over time they get used to it being there, and will eventually come close to have a sniff. The bucket will eventually blend into the background for them, up until the wind knocks it off and now it is lying on the side and so visually it has acquired a different shape and the deer won't come near it again. Sometimes they'll be scared if the previously 'safe to be around' object has moved. They remember where each thing is supposed to be.
Below are a few videos featuring cautious or scared deer. First - Bluetooth and Junkie.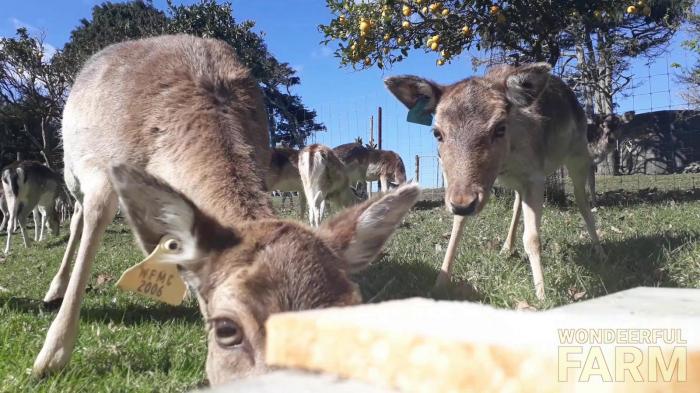 Next one up is about the whole mob.
The following spook is entirely self-inflicted.
Finally, last but not least...
Deer jumping away when scared
What do the deer do when they feel frightened? They immediately jump away. At least. If they're really scared they'll try to run away. If they can't - they'll panic and try to break away. Jump the fence, break the fence, break through anything or anyone on their way...
Here's a good illustration of how it looks. The buck gets a sniff of new food ... and ... where's he gone?
It may be hard to believe that an animal would react so dramatically to simply a new scent, but deer take them very seriously. New often means danger in their vocabulary. If it is at least similar to what they've come across before - fine, they'll inspect further, but if it's totally novel - 'I better run'! So if we hand them new crackers we're prepared to see a few of them jump away at first.
BTW, a video (gif) with no sound has been circulating on the internet purportedly showing a sneezing deer, while in fact it most certainly is a frightened deer awkwardly leaping away and slipping in water. Most likely after having seen or sniffed something in there that spooked him. So we would like to take this opportunity to educate our deer readers :) about that unfortunate misinformation.